Ben Carson Net Worth, Salary, Lifestyle
Anyone who keeps up with politics will certainly have the knowledge of who Ben Carson is. He is the current United States Secretary of Housing and Urban Development under the Trump Administration. He is also a former neurosurgeon who is world renowned in the medical field for his talent in the field. Not only that, but he is also an author who has written a number of books.
Carson is a sophisticated person by every definition and as a man who has been renowned in various fields of profession, is a very wealthy and successful person.
Ben Carson's Net Worth and Income
As someone who has been able to find success in multiple career fields, it is understandable that Carson has a huge net worth, and his net worth in 2018 is estimated at $30 million. As a world-renowned surgeon, Carson should have made good money from his profession, though his income as a surgeon has not been disclosed.
Ben Carson
Source: Washington Examiner
Aside from that, he is the publisher of six best-selling books. He is estimated to have made between $1.1 million and $6 million from his book royalties alone. He has also been a contributor to the Washington Times and Fox News from which, he has made somewhere from $200,000 to $2 million.
He and his wife have reported having the income in the range of $8.9 million and $27 million from 2014 to 2015.
Video: Expensive things won by Ben Carson
Currently, as a secretary of Housing and Urban Development of the country, he has to have a good salary as well. Not to forget the time he served as a member of the boards of the Kellogg Co. and Costco Wholesale Corp. All the moves that he has made in regards of business and profession have all been successfully aiding him to have the huge net worth.
The lifestyle of the Former Neurosurgeon Ben Carson
The former neurosurgeon Carson seems to have a good taste when it comes to housing. He bought a home in Vienna, Virginia in 2017 for which he spent $1.22 million.
Ben Carson's Vienna, Virginia mansion which he bought in 2017 for $1.2 million
Source: Curbed DC
He always had a taste for luxurious living, he owned a $1.5 million home in Upperco, MD. and had paid $4.375 million on a new Palm Beach Gardens getaway as well. When it comes to investing money in houses, he certainly does not seem to hold back.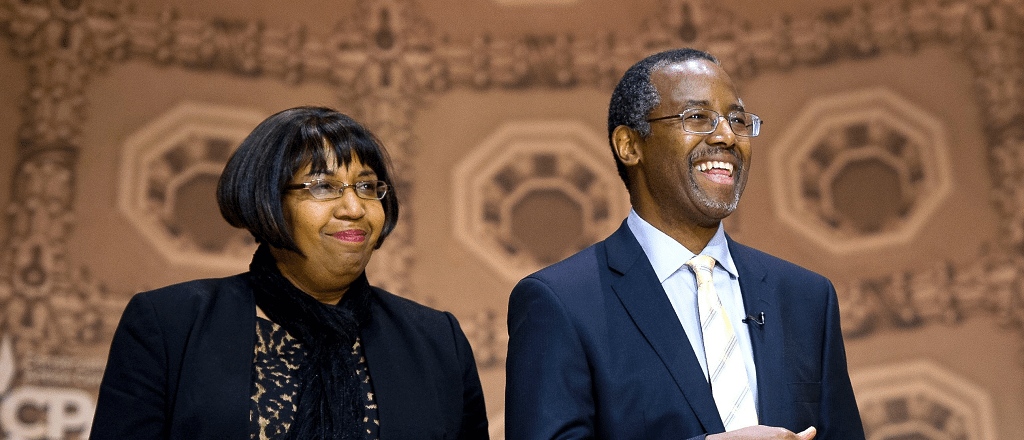 Ben Carson with his wife Candy Carson
Source:heightline
Carson is also a very religious person. He and his wife Lacena "Candy" Rustin, are members of the Seventh-day Adventist Church. Unlike most people in America, he is a Lacto-Ovo vegetarian meaning he is a vegetarian but will eat dishes containing milk, eggs, or cheese.
He is very health conscious and it is the reason for his choice to be a vegetarian as well. Being a former medical practitioner, he seems to revolve his lifestyle around his health and religion as well.